Barbara B. Szatkowski MSN/FNP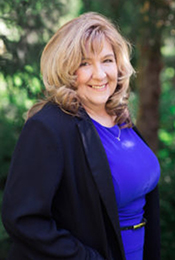 I want people to feel cared for and understood. I want them to know that we have their best interests at heart. I want to help them through their diagnosis and treatment, and maximize their health in any situation.
Barbara B. Szatkowski, MSN/FNP spent over 20 years as an RN before taking on the challenge of becoming Family Nurse Practitioner. She recalls that initial decision to return to school, "As I moved through all the phases of being an RN, I saw being an NP as a new horizon. One of my first healthcare experiences as a young adult was with a Nurse Practitioner, and that left a lasting impression on me." She received her Master's Degree in Nursing from the University of Nevada – Reno, and she says it's one of the best decisions she ever made. She was employed as a Family Nurse Practitioner with Saint Mary's Neil Redfield Health Center and Community Health Alliance for over 10 years.
She transitioned to Digestive Health Associates in 2014, a welcome transition since she was already familiar with the group of doctors, "When I worked as a family NP, I used to refer patients to DHA all the time!" As a new member of the DHA family, Barbara was immediately impressed by their willingness to mentor her. Looking back, she says, "I have come to discover why my patients love [the DHA gastroenterologists] and why they are the number one choice for referrals."
Barbara's interest in gastrointestinal passionate has grown over the years. She is a passionate advocate for colorectal cancer prevention and screening. She also relishes spending time with her patients and helping them find solutions to their GI distress. One of Barbara's favorite things about Digestive Health Associates is the center's reputation in the community. "Each staff member gives all they have to care for each patient. It's not just memorizing what someone told them to say; they understand gastrointestinal problems and have true expertise." In her free time, she enjoys travel and having fun with family, friends and her dog, Ginger. She likes swimming, riding horses, hiking, reading, skiing, and college football.
Education, Memberships and Affiliations
Master of Science in Nursing, Western University of Health Sciences, Pomona, CA
Bachelor of Science in Nursing, Orvis School of Nursing, University of Nevada-Reno
Family Nurse Practitioner certification, 2002
Member, Nevada Advanced Practice Nurses Association