Christina Krainbrink MSN, FNP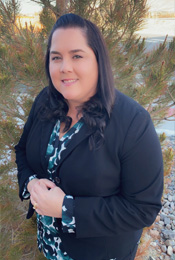 I want my patients to feel heard. It is my hope that my patients recognize that I sincerely care about their health and well-being and that I recognize that each of them is an individual and will treat them as such.
Christina Krainbrink always wanted to provide compassionate care to those in her community by becoming a registered nurse. Given the continued shortage of qualified medical providers, she felt compelled to continue her education in order to help fill that need as a Nurse Practitioner. After having several positive interactions with the physicians at Digestive Health Associates while working as a critical care nurse, she decided to join the practice. Christina learned so much working as a GI nurse and found the diseases and disorders of the digestive tract fascinating. The goal of her Nurse Practitioner education was to work in gastroenterology.
Christina believes the number of young people being diagnosed with colon cancer should be a wake-up call to healthcare providers and the community as a whole. It is increasingly important to discuss warning signs of colon cancer and investigate any symptoms to rule out malignancy and prevent the progression of the disease. Additionally, patients need to be educated regarding the changing age recommendations for screening colonoscopies.
In her spare time, Christina and her family love to explore the outdoors. They like to spend time exploring the extensive hiking and biking trails in the Truckee Meadows. While she loves their high desert home, she finds herself drawn to the beach and ocean. Christina is a certified advanced underwater diver and loves to explore all that the sea has to offer, either by combing a beach, snorkeling with dolphins, or exploring a sunken shipwreck.
Contact us today to speak with an experienced gastroenterologist.
Education, Memberships and Affiliations
Member - Nevada Advanced Practice Nurses Association