Kristina A. Tennert MSN, APRN, FNP-C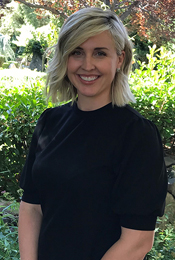 Healthy living is a constant journey.
Kristina A. Tennert, MSN, APRN, FNP-C began her career in nursing in 2011 at St. Mary's Regional Medical Center in the Surgical Acute Unit in Reno. In 2019, she became a board-certified family nurse practitioner.
The field of gastroenterology was an area that she immediately felt drawn to. Kristina has been with Digestive Health Center and Digestive Health Associates in some aspect for over ten years. She first started as an endoscopy technician prior to her BSN. She says "It is an area that I have learned from and grown from". Being a part of Digestive Health Associates and Center of Reno, Kristina has enjoyed spending time with and connecting with the patients. In addition, she has appreciated the support from the amazing physicians and nurses she works with. Kristina is especially passionate about helping her patients with constipation, GERD, and Fatty Liver Disease.
A couple of highlights of her career include being named the University of Nevada, Reno Dean's Award for Master's Student (finishing number one in her class based on GPA), and the University of Nevada, Reno Regents' Undergraduate Scholar Award.
In her spare time, Kristina enjoys participating in and watching any type of sport. She says, "Sports have always been a huge part of my life since I was young." Her hobbies include skiing, golfing, and paddle boarding with her family, but any excuse to get outside is good for her!
Healthy living is a constant journey.
Contact us today to speak with an experienced gastroenterologist.
Healthy living is a constant journey.
Education, Memberships and Affiliations
Master of Science in Nursing, Family Nurse Practitioner, University of Nevada, Reno
Bachelor of Science in Nursing, University of Nevada, Reno
Bachelor of Science in Biology, Health Ecology Minor, University of Nevada, Reno
American Association of Nurse Practitioners, board certified APRN
American Association of Nurse Practitioners, current member
American Association of Nurse Practitioners, Specialty Practice Group, Gastroenterology, current member
Phi Kappa Phi, current member
Nevada Advanced Practice Nurses Association, current member
President, Orvis Student Nurses' Association, elected 2010
Convention Chair, Orvis Student Nurses' Association, elected 2009
Level Representative, Orvis School of Nursing, 2009-2010
President, University of Nevada, Reno Student-Athlete Advisory Council, elected