Sumodh Kalathil M. D.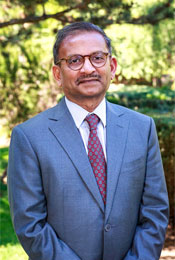 I want to empower every patient with as much information as possible. I want every patient to be an informed customer who understands his/her disease and the rationale for treatment suggested.
Inspired to Become a Gastroenterologist
Sumodh Kalathil, M.D. became a doctor because he was inspired by the change a physician can make in an individual's life through healing. He went to medical school at Calicut University in India, where he also completed an internship and residency. Next, he traveled to the United Kingdom for a four-year period to continue his medical education as a Senior House Officer in Medicine and a Registrar in Medicine at NHS Trust Hospitals. He then came to the United States, completing a residency in internal medicine, followed by two fellowships: one in gastroenterology and hepatology, and the other in transplant hepatology (i.e. liver transplants).
He chose to study gastroenterology because it involves the interaction between multiple major organs (like the liver, pancreas, and intestines), making the diagnostic process even more interesting and challenging. He also likes that the GI specialty gives him the opportunity to diagnose and treat through various procedures, which makes his day-to-day professional life in Reno, NV varied and interesting.
Gastroenterology Career Highlights
A highlight of his career so far has been his experience as the Medical Director and Primary Liver Transplant hepatologist at the Queens Liver Center in Honolulu, Hawaii from 2014-2019. It was the only transplant program for Hawaii and the Pacific Islands. He joined DHA because they are a group of compassionate doctors with numerous years of experience who are willing to share and exchange knowledge for the benefit of every patient that comes into the office. He considers new treatment options for hepatitis C to be the most important success story in the past 5 years in gastroenterology. He finds the potential chance for total eradication of the infection from the community to be astounding. Dr. Kalathil enjoyed playing cricket and field hockey when he was younger, and now he enjoys cooking and traveling with his wife.
Education, Memberships and Affiliations
Bachelor of Medicine/Bachelor of Surgery, Calicut University – India
Rotating Internship, Calicut Medical College Hospital – Kerala, India
Resident in Medicine, Vijaya Hospital – India
Senior House Officer in Medicine, Huddersfield and Calderdale NHS Trust Hospitals – United Kingdom
Registrar in Medicine, West Wales NHS Trust Hospitals – United Kingdom
Residency in Internal Medicine, University of Pennsylvania Medical Center Mercy – Pittsburgh, PA
Fellowship in Gastroenterology and Hepatology, West Penn Allegheny Health System – Pittsburgh, PA
Fellowship in Transplant Hepatology, Mayo Clinic – Phoenix, AZ
American Gastroenterological Association
American Association for the Study of Liver Diseases
Mayo Clinic Alumni Association
Clinical Assistant Professor, University of Hawaii, John A Burns School of Medicine
Board Certified
Transplant Hepatology
Internal Medicine
Gastroenterology
Accepting New Patients
Request Appointment
Gastroenterology Expertise
Liver and biliary disease
Joined practice in 2019
Practicing gastroenterology since 2000
CONTACT US
Digestive Health Associates