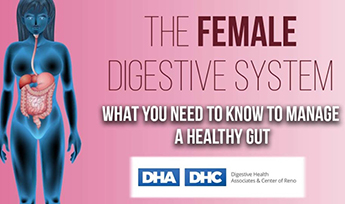 GI Health by Gender Part I: Women
Posted on March 6, 2019
It's no secret: men and women are different, particularly when it comes to health care needs.  In honor of Women's Health Month in May and Men's Health Month in June, Digestive Health Reno has the scoop on how to optimally manage your GI health by gender.
The Female Digestive System
A woman's digestive system is longer than a man's, and her colon has to share space with her uterus, fallopian tubes, and bladder. Her digestive system is also affected by hormonal fluctuations, which can cause fluid retention, bloating, constipation, and slowed digestion. The movement of food through her large intestine can take up to 47 hours—14 hours longer than it does in a man. Women are also twice as likely to struggle with IBS (irritable bowel syndrome) as men.
These features mean a woman's GI symptoms must be assessed and treated differently. For instance, it may be a weak pelvic floor, rather than a lack of fiber, which causes chronic constipation. Regular exercise, avoiding stress and reducing sugar and artificial ingredients in the diet can help to reduce your GI symptoms.
A Gut-Healthy Diet
Regardless of gender, a gut-healthy diet is the same.
What You Should Eat:
A variety of raw and cooked vegetables, and fresh fruits

Fiber-rich whole grains

Lean animal proteins and/or plant-based proteins
What You Should Avoid:
Sugars

Excess saturated fats

Low-nutrient starchy foods

Artificial ingredients
The Female Diet:
Due to a longer colon, slower digestion, and a more relaxed abdominal wall, women are prone to bloating and GI discomfort after large meals. Smaller, frequent meals are best.
Getting the Best GI Healthcare
Whether you're a man or a woman, you deserve the best GI care. Digestive HealthReno is staffed by some of Reno's leading board-certified gastroenterologists and a medical team that specializes in gastrointestinal health. Get top-level, expert care that fits your budget, and enjoy the comfort and convenience of safety-certified facilities, accessible parking, and curbside patient drop-off and pick-up.
Learn more about the male digestive system and our gut-healthy diet for men, and more.
Back to "Blog"