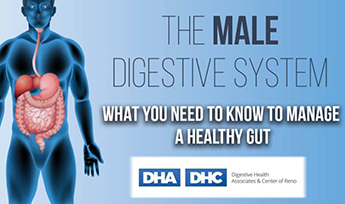 GI Health by Gender Part II: Men
Posted on March 6, 2019
It's no secret: men and women are different, particularly when it comes to health care needs.  In honor of Women's Health Month in May and Men's Health Month in June, Digestive Health Reno has the scoop on how to optimally manage your GI health by gender.
The Male Digestive System
A man's digestive system is less complex and only has to share the abdominal cavity with his prostate and bladder. Monthly hormonal fluctuations and pregnancy changes aren't an issue for men, either.
While fewer men suffer from IBS, the incidence of colon cancer is slightly higher among men (4.7% vs. 4.4% in women). The difference may be because of the protective effect of estrogen against certain cancers observed in some landmark women's studies. Men are often diagnosed with polyps at a younger age, too, so it's important to avoid delaying that first-time screening colonoscopy beyond age 45.
Men are more frequently diagnosed with GERD-related diseases, yet less likely to report symptoms than women, which may be why men's conditions often progress to more serious diseases like esophageal cancer. The message is: don't ignore symptoms, seek advice, to ensure early diagnosis and treatment or prevention.
A Gut-Healthy Diet
Regardless of gender, a gut-healthy diet is the same.
What You Should Eat:
A variety of raw and cooked vegetables, and fresh fruits
Fiber-rich whole grains
Lean animal proteins and/or plant-based proteins
What You Should Avoid:
Sugars
Excess saturated fats
Low-nutrient starchy foods
Artificial ingredients
The Male Diet:
Due to higher testosterone, men are more prone to abdominal weight gain, increasing their risk of chronic diseases like diabetes and heart disease. Men should avoid a high intake of fatty animal proteins.
Getting the Best GI Healthcare
Whether you're a man or a woman, you deserve the best GI care. Digestive Health Associates and Health Center Reno are staffed by some of Reno's leading board-certified gastroenterologists and a medical team that specializes in gastrointestinal health. Get top-level, expert care that fits your budget, and enjoy the comfort and convenience of safety-certified facilities, accessible parking, and curbside patient drop-off and pick-up.
Visit our website to learn more or schedule an appointment, or give us a call.
Back to "Blog"