Thinh Tang D.O.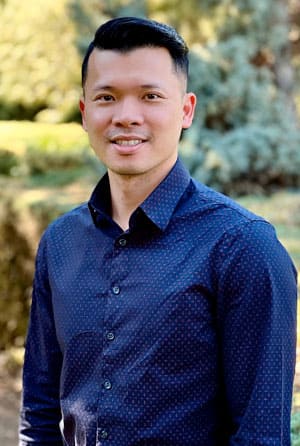 I strive to provide individualized patient care and treat his patients like family.
His Love for Math, Science, & Critical Thinking
Dr. Thinh Tang grew up in Vietnam and relocated to Chicago as a child. He initially pursued a career in chemical engineering due to his love for math, science, and critical thinking. Intrigued with medicine from encounters with brilliant medical professionals and volunteer experiences throughout high school and college led him to pursue a career in medicine. He left Chicago to attend medical school at Touro University Nevada. He completed his internal medicine residency and gastroenterology fellowship in Las Vegas, Nevada where he was the chief fellow.
The Balance Gastroenterology Provides
Gastroenterology provides the opportunity for him to balance critical thinking with procedures to diagnose and manage a variety of acute and chronic illnesses. He has a particular interest in biliary disease and esophageal motility. He aims to implement the latest guidelines and technological advancements into his practice. More importantly, he strives to provide individualized patient care and treat his patients like family.
Activities and Personal Interests
Dr. Tang enjoys home improvement projects due to his background in the construction business. He is also a fitness, electronic, automotive, and photography enthusiast.
Most Trusted GI Doctors and Nurses in Reno, NV
Dr. Tang and our team of expert gastroenterologists and nurse practitioners are passionate about our patients' health and dedicated to delivering superior care to each patient. Contact us today to schedule an appointment with a GI doctor in Reno.
Education, Memberships and Affiliations
Bachelor of Science in Chemical Engineering, the University of Illinois at Chicago, Chicago, IL
Doctor of Osteopathic Medicine, Touro University Nevada, Henderson, NV
Internal Medicine Residency, Valley Hospital Medical Center, Las Vegas, NV
Gastroenterology Fellowship, Valley Hospital Medical Center, Las Vegas, NV, Chief Fellow
American Board of Internal Medicine
Nevada State Board of Osteopathic Medicine
Member, American Society for Gastrointestinal Endoscopy
Member, American Gastroenterological Association
Member, American College of Gastroenterology
Member, American College of Physicians
Member, American College of Osteopathic Internists
Member, American Osteopathic Association
Board Certified
Internal Medicine
Gastroenterology
Accepting New and Established Patients
Request Appointment
CONTACT US
Digestive Health Associates