Rhonda Navarro AGACNP-BC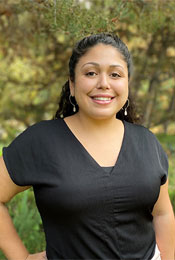 I want my patients to feel comfortable with me as their provider and know I will always do my best to ensure they are safe and heard.
A Passion for Learning and Medicine
As a critical care bedside nurse, Rhonda Navarro has worked with a variety of complex patients managing multiple medications, airway needs, and hemodynamic stability simultaneously. During this practice, she achieved a level of autonomy in her patient care that gave her inspiration and drive to further her career and become a provider. She has always had a passion for learning and medicine and as her RN career blossomed, it felt like the most natural transition to move forward as an acute care-focused Nurse Practitioner.
The Complex World of Gastroenterology
Rhonda chose to work as a GI nurse at Digestive Health Associates in Reno, Nevada because she likes the fact that gastroenterology is comprised of multiple organs that work together as a unique system. She has always enjoyed complex patients and felt as though this specialty could give her a balance between acute processes and the outpatient clinic. She has always been passionate about the liver disease specialty and the variety of ways it can occur and progress. During her time working in transplant centers, she discovered the intriguing world of solid organ transplants and will never forget when she found out you can have a live liver donor. She feels she can be intellectually fulfilled in this environment.
Accomplishment and Recognition
Rhonda says that completing her graduate studies as an Acute Care Nurse Practitioner is hands down the biggest highlight of her career thus far. She is a first-generation, Hispanic, female college graduate and takes much pride in the hard work and dedication it took to get here. As a bedside RN, she was nominated for Northern Nevada Critical Care Nurse of the year. She has worked at various hospitals throughout the west coast and experienced a multitude of patient populations including level 1 trauma and world-renowned transplant centers. This unique experience has been eye-opening and has laid a framework for her work as a provider.
Rhonda's Mission
Rhonda strives to always provide individualized, unbiased, patient-centered care. "I want my patients to feel comfortable with me as their provider and know I will always do my best to ensure they are safe and heard".
We are the Most Trusted Team of GI Physicians and Nurse Practitioners in Reno, NV.
Rhonda and our team of expert GI nurse practitioners and gastroenterologists are passionate about our patients' health and dedicated to delivering superior care to each patient. Contact us today to schedule an appointment at our office located at 655 Sierra Rose Dr. or 5250 Kietzke Ln in Reno.
Education, Memberships and Affiliations
Bachelor of Science in Nursing, Orvis School of Nursing, University of Nevada, Reno
Master of Science in Nursing, Orvis School of Nursing, University of Nevada, Reno
Adult-Gerontology Acute Care Nurse Practitioner- Board Certified (AGACNP-BC)
Member, American Nurses Association
Member, American Association of Critical-Care Nurses