Food Allergies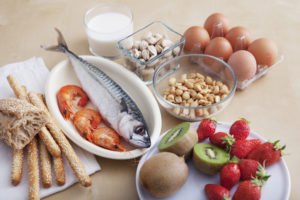 Your body's immune system is supposed to detect germs that make you sick and eliminate them. An allergy is when your body mistakes a protein in your food for a germ. In response, your immune system releases chemicals such as histamine that cause inflammation.
Food allergies are similar to food sensitivities, but there is a difference in how your body reacts. Food allergies cause an immune system reaction, while food sensitivities cause a digestive system reaction. Gluten sensitivity is a common food sensitivity.
Digestive Health Associates located at 655 Sierra Rose Dr in Reno, NV provides expert gastrointestinal care for patients struggling with food allergies, gluten sensitivities, or related symptoms.  You can trust our GI doctors like Dr. Lynda Hoang and Dr. George Vagujhelyi to specialize in addressing GI issues like food allergies.
Visit us for a comprehensive evaluation and treatment options to help you find relief and improve your digestive health. Whether it's gluten sensitivity, adverse food reactions, or other gastrointestinal concerns, Digestive Health Associates is dedicated to serving your medical needs in Reno, Nevada.
Request Appointment
Find a Gastroenterologist